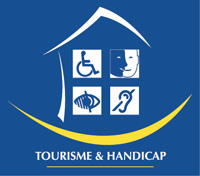 The Gouffre de Proumeyssac is the 1st underground cavity in France to receive the "Tourisme et Handicap" (accessible tourism) label for all types of disabilities. It demonstrates the combined efforts of the entire team and a necessary investment made to provide a virtually complete tour of the site to disabled visitors from France and around the world.

The gentle slope of the tunnel allows visitors in wheelchairs to access the balcony overlooking the cave and audio-guides enable them to hear all of the guide's commentary while they are down in the cave with the visitors. From that location visitors have the best overall view and can enjoy the sounds and lights of the tour.

Audio-guides with an adjustable volume and tour booklets are available for people with hearing deficiencies can tour the site in the best conditions.

The tour commented by experienced guides, reassuring facilities and lighting make discovering the cave easier for these visitors.

The gentle slope of the tunnel provides easy access to the cave. Booklets with texts written in Braille and raised drawings illustrate the highlights of the guided tour.